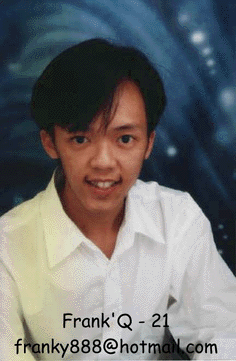 Hai........My name is Franky Nathanael. My friends usually  calls me kiki and 
Qnoy. That's why my nick in irc  is Qnoy. I  was  exist in  this  world at January 
22th 1977 in Bandung city. My mom  tells that   I'm  born  at  night,  but I don't 
really sure....because I wasn't see the sky....there is dark or light!
        I'm 60 Kg weight  and  174 height......and I'm always dreaming my weight to 
be increase......But it's so hard.  When I was a little kids my ideal was  to become 
an  Astronaut and I was aspired to build my own world. It's kewl...........to see my 
world which everybody who I known exist from the moon. But. . . ?
        I'm a student in University Of Bina Nusantara Jakarta, majoring Computer 
Science.  I'm a  crazy mania  about  anything that related  to the  computer both 
hardware  and  software. My  hobbies  are  play  &  listen  slow  music,  shopping, 
many  sports that used a ball.  I'm playing  Guitar,  Drum and organ too, I joined 
some band groups in my town and it's  continued  until  now. Except  of that,  I'm 
a guitar accompaniment in my church. I plays music every day..........It gave me my
special satisfaction, and when I was felt boring or lost, it can recover my feeling 
to be happy. My  fave  music are Nothing  gonna  changes  my  love  for  you  and 
Beautifull girl 'coz........it has a lot of memory in my mind that can't be forgetted.
        I'am first from three. . .two  of  my sisters are female. They are 18 and 10. 
Since I get my study in Jakarta. . . .I've been  missing  hers. But we stay keep in
touch each other.  I. . . . . .I . . . .I think I'm tell you too much, that's enough until 
here . . . 

If there's any question simply send your email to me. . . . . .